Florida Keys, Islamorada, Biscayne Bay
South Florida (from Biscayne bay to Islamorada to Big Pine Key including Flamingo in Everglades National Park) is the premier fly fishing and light tackle destination in the world.  For those looking to experience the "pinnacle" of saltwater fly fishing there is no more complex, diverse and abundant fishery on the planet than the stretch of water from Miami to Key West.  The Florida Keys are home to many of the worlds most talented guides, and are a wonderful spot to vacation with family and friends.  World Angling's roots are firmly plated in the coral sand here and we have spent a lifetime learning these waters.
This rich ecosystem is situated between the Atlantic Ocean and the Gulf of Mexico, and includes the 3rd largest barrier reef in the world. The Florida Keys have a long history of sports fishing, and have the IGFA world records to prove it! Everything from shallow water sight fishing with a fly rod to offshore trolling in the Gulfstream are only a few miles from the dock. Inshore "flats" species include Tarpon, Permit, Bonefish, Redfish, Snook, Sharks, and Barracuda. Offshore species include Sailfish, Marlin, Tuna, Mahi, Wahoo, Kingfish, Grouper, Cobia, Snapper, and Sharks.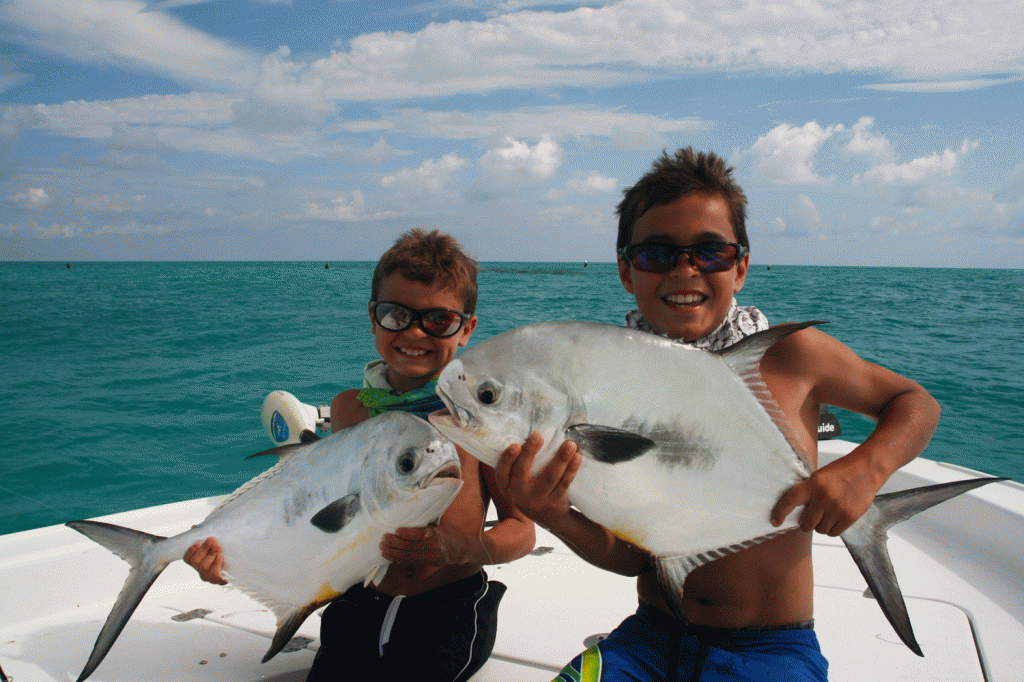 We offer all types of fishing.  Wether you are pursuing Permit on fly, or just interested in taking the kids out for snapper and sharks (or Permit!!), WorldANGLING's crew consists of independent professional guides who do it all.  We strongly believe that we have a responsibility to share this amazing sport and ecosystem with others.  We have all decided to make fishing here in the Keys our livelihood, and we are all local, full time, year round guides.  Every trip booked through WorldANGLING will be with a member of the Lower Keys Guides Association, an organization dedicated to the preservation of the fishery and the profession of charter fishing.   We practice catch and release and follow proper fish handling techniques every time. The only exception we make is to kill what you are going to eat.   We are also supporters of the Bonefish Tarpon Trust, and Keys Keeper and we are involved with Costa Del Mar's Project Permit where we help to tag these incredible gamefish for research purposes.  If you ever wanted to experience the trip of a lifetime, there is no better place than the Florida Keys, and no more enthusiastic crew to do it with then WorldANGLING!  What are you waiting for?
We welcome experienced and novice anglers alike, and will work hard to make sure your time on the water with us is fun, safe and successful.  We guide in many of the best locations for all these fish beginning in the Lower Florida Keys (Key West, the Marquesas, Sugarloaf Key, Big Pine) then North to Marathon, Islamorada, Key Largo, Biscayne Bay, and into Everglades National Park.  If you have ever wanted to hunt permit on the flats of Key West, throw flies to giant laid-up tarpon in the heart of the Everglades, target neon blue sailfish in the currents of the Gulf Stream, or chase monster mudding bonefish in Biscayne Bay, let us know and we can help make it happen.  -Will Benson
Book Now for Summer & Fall 2014 and Spring 2015!
Come join us and experience the trill of chasing fish in the electric neon waters of the Florida Keys.  We are now taking reservations for the Winter 2014 and SPRING 2015.
OUR RATES:
Flats Fishing-  Fly and Spin for Tarpon, Permit, Bonefish, Sharks, and Barracuda (2 People max)
8 hour full day          $650
6 hour 3/4 day          $500
4 hour 1/2 day          $400
Bay Boat- fly and spin fishing for Tarpon, Permit, Sharks, Barracuda, Cobia, Snapper and Grouper (4 people max)
8 hour full day          $700
6 hour 3/4 day          $600
4 hour 1/2 day          $500
Light Tackle- (wreck and offshore) fly and spin for Sailfish, Dolphin, Wahoo, Permit, Grouper, Snapper, Tuna ( 37′ boat, 6 people max)
8 hour full day          $950
6 hour 3/4 day          $800
4 hour 1/2 day          $650
Light Tackle- ( inshore ) near shore fishing for Tarpon in the harbor, sharks etc…  (37′ light tackle boat, 6 people max )
8 hour full day         $850
6 hour 3/4 day         $700
4 hour 1/2 day          $550
Night Fishing/ Specialty trips- Flats fishing, bay boat, or light tackle offshore.
Rates are same depending on type of boat and length of trip.  Specialty trips for swordfish and overnight mothership trips as well as tournament trips are subject to special pricing.  Please contact us for details.
GOURMET FOOD FOR LUNCH: There is nothing better then having great day fishing except if you have an epic lunch to go with it!  When planning a day on the water food is always an issue.  Some bring their own lunch and the Circle K Italian meat sandwich is always a last resort, but what we recommend is a little Artisan bakery called Cole's Peace.  It's an awesome deli run by our friends and they serve up some of the best sandwiches ever to grace the cooler of a fishing boat.  If you call ahead, even before they open and leave a message with what you want, they'll have it wrapped for the cooler and your guide will be thrilled.  Another great place is Tina's Market on mile marker 10 in Big Coppitt Key.  They have an awesome cuban mix and are open a 6am.  There is also the early morning option of Sandy's Cafe when you need some salty bacon to go with your cafe con leche.  Talk with your guide and he will help you make a decision but these are my favorites.  -Capt. Will Benson
DEPOSIT / CANCELLATION POLICY: 
A deposit of 15% is required for every day booked.  The deposit is completely refunded if your trip is cancelled due to weather or mechanical failure.  If your trip is cancelled for other reasons the guide will do his best to rebook the days otherwise deposits will be forfeited.
 It is your responsibility to inform us of any health conditions prior to your trip. Please contact us with any booking questions you may have.
LICENSES AND LODGING: We provide all the necessary fishing licenses.  Often times we are able to pick you up at your hotel/ guesthouse and drop you off at the end of the day depending on where you stay.  There are a number of great places to stay depending on where you will be fishing from.  If you are staying in Key West we highly recommend Key West Hideaways.  They  offer one-of-a-kind vacation rentals for every trip you have in mind.  Wether you are coming to do serious fishing by yourself or bringing the whole family, Kevin and his staff at K.W. Hideaways will take care of everything for you.   If you would like help finding a place to stay outside Key West please contact us and we will help you find the ideal fishing retreat.
WHAT TO BRING:
Hat, Polarized Sunglasses, Sunblock, Rain Gear, Camera, Food and Beverages (water, ice, and cooler provided). We will provide all the tackle (rods and reels), flies, lures, and bait, but if you would like to use your own gear that's fine too.  Check out our GEAR page for recommendations and to find out what we use everyday out on the water.