Islamorada – Biscayne Bay
Islamorada is the "sports Fishing Capital of the World" and boasts a long history of IGFA world records and famous anglers and guides to back it up. The upper Florida Keys, (collectively Biscayne bay to Islamorada to Marathon to Big Pine Key including Flamingo in Everglades National Park) is the premier fly fishing and light tackle destination in the world. For those looking to experience the "pinnacle" of saltwater fly fishing there is no more complex, diverse and abundant fishery on the planet than this stretch of water. This amazing, rich and complex fishery includes a river esturine ecosystem to the north (Everglades National Park ) the largest submerged grassland (Florida Bay) and the third largest barrier coral reef in the world. The Florida Keys are home to many of the worlds most talented guides, and are a wonderful spot to vacation with family and friends. WorldAngling's roots are firmly planted in the coral sand here and we have spent a lifetime learning these waters.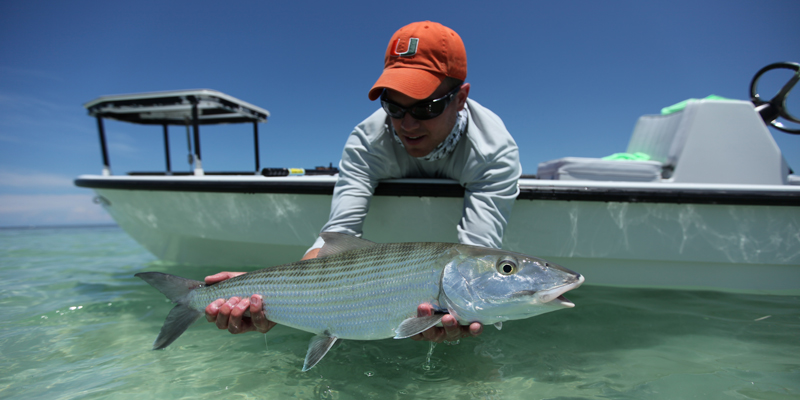 The upper Keys, Biscayne Bay, Islamorada and Florida Bay are a true year-round fishery with options for every type of fisherman. Everything from shallow water sight fishing with a fly rod to offshore trolling in the Gulfstream are only a few miles from the dock. Inshore "flats" species include Tarpon, Permit, Bonefish, Redfish, Snook, Sharks, and Barracuda. Offshore species include Sailfish, Marlin, Tuna, Mahi, Wahoo, Kingfish, Grouper, Cobia, Snapper, and Sharks.
Islamorada is centrally located in the Florida Keys islands and is the perfect location to fish Florida Bay. Florida Bay is a year round fly fishery for Bonefish, Tarpon, Redfish and Snook. Offshore, there are several seamounts that distinguish Islamorada as one of the singular best locations in the world to target big game species in blue water. Legendary boats and captains depart from such famous places as Bud and Mary's Marina or Hawks Cay Resort to access blue water only a few miles to the south. This close proximity to deep water, unique submerged structures (seamounts and reefs) and the continuity with the rich ecosystem of Florida Bay and the Everglades combine to offer anglers endless opportunities. Experience this amazing destination for yourself to see why it truly is the "sports fishing capital of the world!"

OUR RATES:
Flats Fishing Fly and Spin for Tarpon, Permit, Bonefish, Sharks, and Barracuda (2 People max)
8 hour full day $700
6 hour 3/4 day $550
4 hour 1/2 day $450
Bay Boat fly and spin fishing for Tarpon, Permit, Sharks, Barracuda, Cobia, Snapper and Grouper (4 people max)
8 hour full day $725
6 hour 3/4 day $625
4 hour 1/2 day $525
Light Tackle wreck and offshore fly and spin for Sailfish, Dolphin, Wahoo, Permit, Tarpon, Grouper, Snapper, Tuna (6 people max)
8 hour full day $1,050
6 hour 3/4 day $900
4 hour 1/2 day $700
Family Snorkel Eco trip Want t take the family out on the water in between fishing days? Our 36′ Twin Vee is the ticket.
8 hour full day $1100
6 hour 3/4 day $900
4 hour 1/2 day $700
BOOKING TERMS AND CONDITIONS

World Angling acts as a booking agent for the guide(s) it books. When you make a booking you are entering into a contract with the guide via World Angling Inc. not with World Angling Inc. itself. World Angling will use its experience, knowledge and insight to secure the most professional guide(s) in our Crew and network whom we feel will be a good fit for the type of fishing experience you seek. Our job is to use our knowledge of guides and their availability to help you get the best fishing experience possible. Essentially, we are in the business of booking successful fun fishing trips with the best local independent guides we know. For all the details of this agreement and contract in which you are entering, please refer to our Terms and Conditions.
DEPOSIT / CANCELLATION POLICY:
A deposit of 15% is required for every day booked. The deposit is completely refunded if your trip is cancelled due to weather or mechanical failure.
During the spring season (Feb 1 – August 1 ) guides are dependent on bookings for the busy season. Should you cancel within 30 days of your trip, the guide will do his best to re-book the day(s), otherwise deposits will be forfeited.
 If you decide to cancel within 15 days of your trip, for any reason, the full amount will be due to the guide if he cannot re-book any of the days.
During the remainder of the year (August 2-January31) you may cancel for any reason up to 30 days before your trip and we will refund your deposit. Within 30 days, the guide will do his best to re-book the days, otherwise deposits will be forfeited.
It is your responsibility to inform the guide of any health conditions prior to your trip. Please contact us with any booking questions you may have.