Everglades National Park
The Everglades is a massive estuarine system located on the South West coast of Florida's mainland. This coastal mangrove ecosystem is arguably the best tarpon fishing destination on the planet. At a crossroads between temperate and sub-tropical America, as well as, fresh and salt waters, Everglades National Park encompasses a lush, fertile, low-green landscape and infinitely complex mangrove river system. The Everglades is teeming with wildlife such as Alligators, Manatees, Dolphins, and a variety of bird life. It provides a stable fishery year round for many species including: Tarpon, Snook, Redfish, Bonefish, Permit, Sharks, Trout, Pompano, Jack Crevalle, Bonita, Black Drum, Ladyfish, Goliath Grouper, Snapper and Largemouth Bass. Come lose yourself in one of the most amazing fishing destinations in the world.


GETTING THERE
Unique in the world, the Everglades is an ecological wonder, and a must fish for any saltwater fisherman. Anglers access the park from either Islamorada (on the south side of Flroida Bay), Flamingo (West of Miami ) or Chokoloskee (South of Naples on Florida's Southwest coast). The southern portions of the park extend into "downtown" Islamorada, while the northern reaches are within the region known as the 10,000 islands. The everglades have a rich history including drug-smuggling, poaching, commercial fishing, indian wars and hurricanes. There is a distinct feeling that you pass into another world when you travel to the everglades…one that time has passed by. There are many reasons to fish the Everglades, least of which is to experience incredible fishing, but my favorite reason to fish there is to get lost. Like so many travelers, fishing bums, pirates, and bandits have done for years, come lose yourself in the mangrove labyrinth and experience one of the greatest National Parks in America!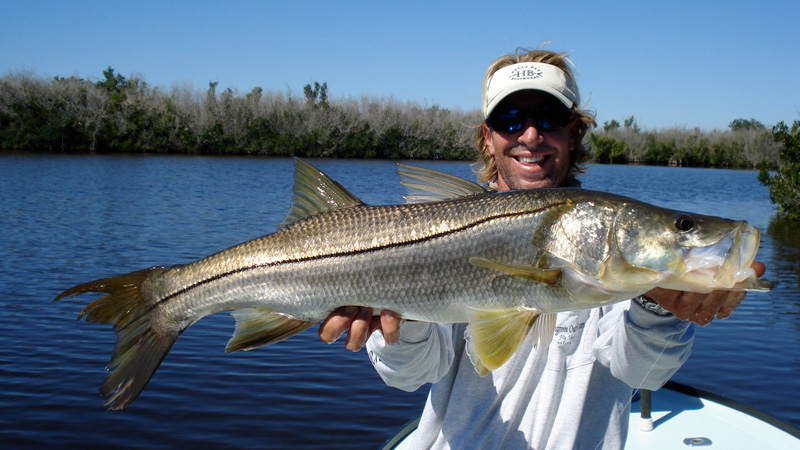 During the prime tarpon months of March-July we only book full days. Similarly, if you want to fish from Everglades City or Flamingo we only book full days due to the remoteness of these locations. 3/4 and 1/2 days are available during the rest of the year in the Naples and 10,000 islands areas.
OUR RATES: Flats Fishing ( Fly Fishing and Spin/ Plug Fishing)
8 hour full day $700 During the prime tarpon months
6 hour 3/4 day $550
4 hour 1/2 day $450
DEPOSIT / CANCELLATION POLICY:
A deposit of 15% is required for every day booked. The deposit is completely refunded if your trip is cancelled due to weather or mechanical failure.
During the spring season (Feb 1 – August 1 ) guides are dependent on bookings for the busy season. Should you cancel within 30 days of your trip, the guide will do his best to re-book the day(s), otherwise deposits will be forfeited.
 If you decide to cancel within 15 days of your trip, for any reason, the full amount will be due to the guide if he cannot re-book any of the days.
During the remainder of the year (August 2-January31) you may cancel for any reason up to 30 days before your trip and we will refund your deposit. Within 30 days, the guide will do his best to re-book the days, otherwise deposits will be forfeited.
It is your responsibility to inform the guide of any health conditions prior to your trip. Please contact us with any booking questions you may have.
LICENSES: We provide all the necessary licenses to fish in Everglades National Park and the state of Florida.
WHAT TO BRING:
Hat, Polarized Sunglasses, Sunblock, Rain Gear, Camera (although we always carry these!), Food and Beverages (water, ice, and cooler provided) We also provide all the tackle (rods and reels), flies, lures, and bait, but if you would like to use your own gear that's fine too.