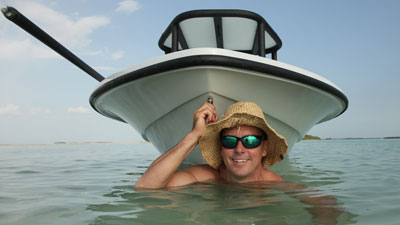 Will Benson
Will Benson is a paradox wrapped in an enigma He is a true conch, and was well known as "wide open Willy" , racing around the flats at Mach 10, jack plate up, always in a hurry to catch fish. Yet, he is, the rare conch who is interested in events north of the 18 mile stretch and has a philosophy degree from Loyola U. He has opened a whole new level of fishing films, that, for the first time, deviated from hero shots and hard rock to explaining conservation, the ecology and what flats fishing is really about. He has won awards for his Tarpon and Permit films. He is now a bit more mellow as a husband and doting father living on Sugarloaf Key where he grew up. A day on the water with Will is a treat on many levels (except for all the food you have to bring to keep up with his metabolism). Most of all, he is a superb, intense guide who still gets excited about every fish. Oh, and the only guy I ever met who decided to tear down most of his house without being quite sure how to really put it back together properly! -Jon Ain
Capt. Shane Smith
Often times you wonder why someone with obvious talent, enthusiasm, and wit becomes a fishing guide. Well, it isn't for the money! It's for the love of the sport, the art of guiding and the joy in sharing with others a passion for the outdoors. Captain Shane Smith is the poster child for the reformed materialist turned trout bum, turned dedicated saltwater guide. After a front-on collision with reality, Shane left a career in the Arabian show horse industry to pursue his lifelong love of fishing and the simple life with his wife Jessica. He guided in the high mountains of Colorado, big game fished the Central American Pacific, waded the watery haunts of the Caribbean, and somehow landed on the front of Will Benson's skiff. It was March, and the wind was blowing. The camera's were rolling on a new permit film, and Shane gave an oscar worthy performance, catching his first permit on fly! It was a monumental 5 pound fish, and his soliloquy so elegant, so energetic and so long, we just had to put it in Satori. After his "heart nearly exploded" it was obvious that the 15years leading up to that event, all the fly fishing, inevitable poverty, dedication to conservation, and the enrichment of others through the art of guiding, led Shane to the community of Keys Guides and the CREW of WorldANGLING. His enthusiasm, dedication to the craft, and undivided attention to detail are qualities found in only the best of guides. His long hair and beard are the hallmarks of a fishy mother f*%#&r, and his words wise beyond his years. " I've spent most of my life fishing. The rest was just wasted!"
Capt. Jeff Legutki
Jeff is a laid back father of 3 and a native of the Everglades. Jeff has spent his entire life in and around the tannic waters of the 10,000 islands and the Everglades backcountry. His professional guiding career started offshore as a wreck and light tackle fisherman. Then, in 2000, Jeff went back to his roots in the many lost corners of the Glades as he began to guide fly fisherman in search of monster tarpon, snook and redfish. Capt. Jeff now balances his life between a 200 days a year guide schedule and the rest teaching his kids the fine art of fly fishing. As one of the coolest, most relaxed guides you will ever meet, Capt. Jeff exudes the kind of confidence and patience that comes after a life spent chasing some of the most remote gamefish in North America. Capt Jeff understands what it takes to catch his clients trophy fish, as well as what it takes to get the shot when out filming as a member of World Angling. Jeff has been instrumental to the many successful film productions with WorldANGLING and is a steady hand on the rod, the camera and the helm. The passion, enthusiasm, and wisdom he has for fishing and living the life is infectious. If you want to step back in time and experience one of the most spectacular ecosystems on earth with one of it's quiet caretakers, make sure to check out his website Angler's Addiction.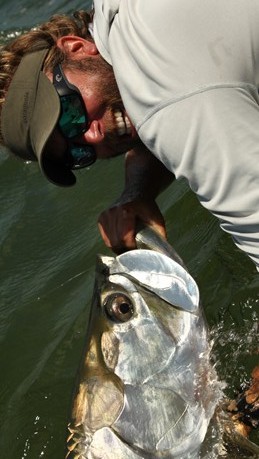 Capt. Mitchell Dugger
Forged in the fires of patience and understanding, Captain Mitchell Dugger's philosophy is simple, better teaching creates better anglers. He strongly believes that the guide/client relationship can be more important than the fishing itself. Through years of casting instruction and a jovial yet firm teaching style, Captain Dugger's goal is to help anglers truly understand the vast complexities and the the subtle nuances of this highly addicting and completely satisfying sport called "flats fishing".
Not so many years ago, he was a boy from Oklahoma who, like everyone else, had no idea where the hell Key West was! His journey to the southernmost city began when his academic career ended. Knowing full well that time in a boring classroom was wasted time that could be spent fishing, young Mitchell decided to become a guide. At the tender age of 17 he was guiding the rivers of the Gunnison valley in Colorado. His guiding led him to adventures in Alaska where he encountered salmon and bears on the Kenia peninsula. With the long dark winters bearing down, he decided to exchange wading boots and his bear gun for flip flops and a push pole. The adventure continued when Mitchell met Will Benson who was renovating a friend's house on a remote island west of Key West. Mitchell dug ditches by day, hunted permit at sunset, and danced wildly around bonfires at night on that remote island until he had earned enough money to buy a flats skiff. With salt in his soul and a healthy beard on his face, Capt. Mitchell Dugger takes no prisoners on board his skiff. Dealing out a steady torrent of helpful and gentle guidance, Capt. Dugger delights in watching his clients conquer the flats!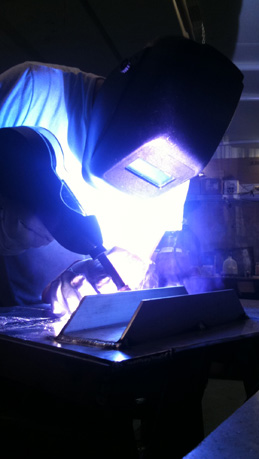 Capt. Mike Gorton
It's a rare breed of guide that can lead you to monster tailing permit by day, weld your broken aluminum gas tank by night, and all the while, discuss the impacts of the thermohaline circulation on the North American energy equation, as well as, the spawning habits of the permit you just missed. Mike Gorton is a post-renaissance guide. One who can quote Nietzsche, adjust the amperage of a MIG welder to account for dissimilar metal thicknesses, and prepare fresh Alaskan salmon from his lodge (the Goodnews River Lodge) for dinner. If you are stuck, in a jam, need to catch a fish or just want your worldview adjusted, I would recommend adding Captain Mike Gorton's cell phone number to your speed dial. His passion and pride for fishing was evident from an early age when he hand built his first river skiff at the age of 14. His love of guiding is only superseded by his love of wife Kim and daughter Faith. From the icy mountains of Antarctica to the mangrove shorelines of Big Pine Key, Mike has had more adventures, caught more fish, and put more smiles on peoples faces then there are decimals in the number pi. There are good people, there are selfless people and there are Saintly people. Mike is a Saint; brought from the heavens to divinely assist you with your piscatorial problems as well as your carpentry issues. Mike is a world-class guide and the brainchild of World Angling's's Man Factor reality show!
Capt. Mike Wienhofer
If you were to draw an analogy about captains some would be a good story (think The Odyssey, or Old Man & The Sea), others would be a comedy or redneck reality show, others perhaps a bad horror flick! And then there is the exception— a story of pure knowledge — the encyclopedia! A captain full of facts and data, and presented in an easy to understand, unassuming fashion. The encyclopedic fishing guide knows his S#!t, isn't boastful, and is always ready to impart knowledge. Captain Mike Weinhofer is the encyclopedic guide! There are few things that he doesn't have at least a working knowledge about. If there is a new fact, detail, or concept that he doesn't know yet, it's absorbed and catalogued for future use. From the helm of his 40' SeaHunter light tackle boat, Mike guides his clients on a vast ocean of knowledge that spans from the Gulf of Mexico to the Atlantic straights — up the Eastern seaboard, to the waters off New Jersey where he grew up. Fishing with his father on the famous Jack Tar as a kid, Mike began to lay the foundation for his understanding of the fish and techniques used to be a successful tournament captain. Today, Mike enjoys the confidence that only comes with 20 plus years guiding in the Florida Keys as he fishes and organizes many of the famous tournaments in the Florida Keys. Mike, and the guides of Compass Rose Charters, are our go-to captains for Light Tackle and Bay boat fishing trips. If you're ready to do some serous action-packed sports fishing, or want to take the family out and put a bend in the rod and bring home dinner, there's no more talented, knowledgeable and hard working captain in the Florida Keys than Mike. Just be careful, he likes to play tricks!!! Fair warning!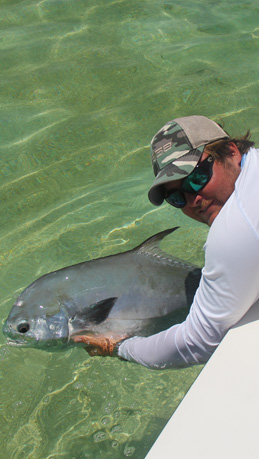 Capt. Jared Cyr
People born in Key West are called "Conchs." Originally, the term referred to Bahamians who fled the crown soil during the American revolution and immigrated to Key West in the mid 1800s. These days, the tradition is carried on by placing a conch shell outside the front door or on a post in the yard to signal the birth of a new baby. The Cyr family has been putting Conch shells in their yard for 4 generations. When Jared's family put his conch shell in the yard some 24 years ago, they new full well that his roots would be planted in the turtle grass flats and coral basins where they had found it. He was the next generation of fishermen for their family and would indeed take up the family business. As a kid Jared and his brother Brandon spent every free moment on the water, in the canal, or at the docks talking with the guides and captains. To say that Jared is a good fly-guide is a shallow portrayal. He has a depth of knowledge about the waters of Key West and an understanding of the fishery that goes far beyond being able to pole a flats boat. It's the kind of knowledge that no GPS will help you get. It's a feel, a sense of timing and a few practiced tricks that make someone a master of their craft. Few guides ever get to that point and even fewer do it before they are 30. Jared truly is the next generation of guide. He's young, relaxed, patient, hard-working and hungry for success. After all he has a lot to live up to in his family!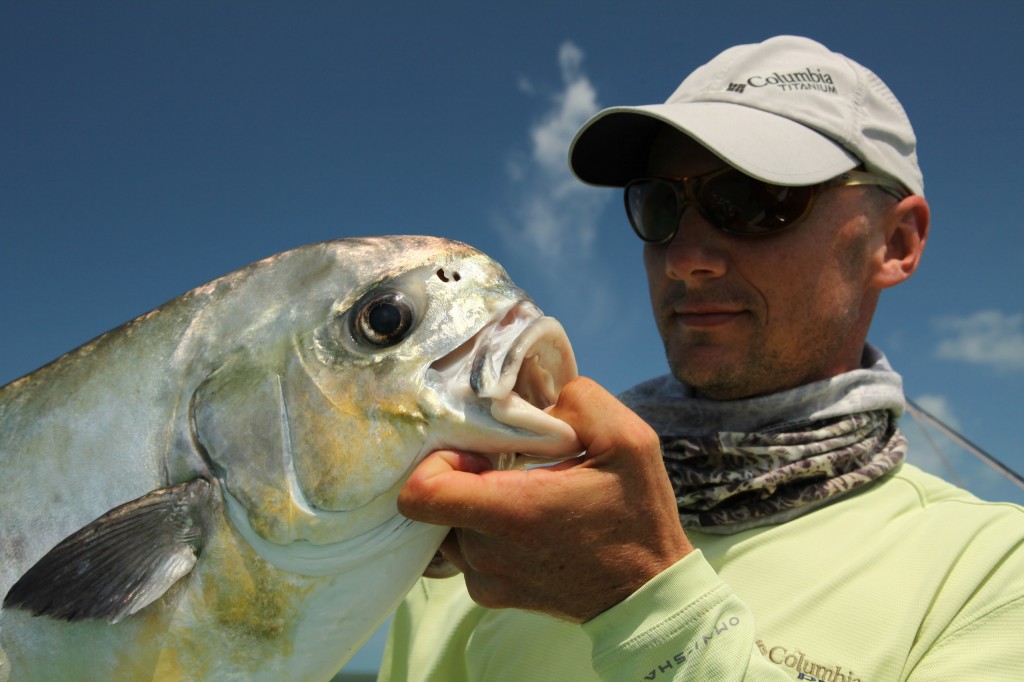 Capt. Brian Esposito
When a guide is fishy you know it right away. It could be that they smell like fish or kind of act like fish or it can be the way they drive their boat and always seem to be in the right spot at the right time. They are sneaky and focused, and could have probably had a career in the CIA if they didn't care so much about fish. Brian Esposito is that kind of guide. On any given day from the Marquesas to the Marsh of Louisiana including both saltwater and freshwater fishing holes, there is the possibility of running into Espo. The only thing is, you won't even see him until it's too late. If you're a fish this is a bad thing, but if you are an angler this is the guide you want on your side. With expertise in custom skiff building, years of experience behind the lens as a hired gun for Mark Sosin, an arsenal of deadly fly, plug, spin, and conventional gear in his boat, and a memorized knowledge of the Everglades, Florida Keys, Louisiana Marsh, and Lake Okeechobee, Espo is WorldANGLING's very own spy. Now, if you ask him about all this he will totally deny it, that's what he's trained to do, but what he will tell you is that his favorite target is a sight fished Everglades snook from a canoe. Capt. Brian Esposito is a quiet, extremely patient and thoroughly pleasant guide who might vanish at any moment, so if you get the chance fish with him while you can. Ever hear of a guide named Rick Ruoff? Exactly. They're good friends.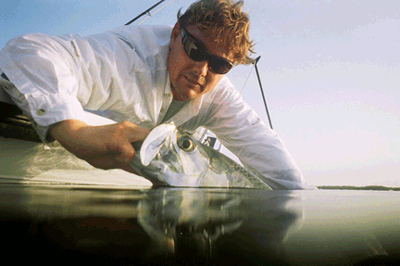 Captain Scott Irvine
The Florida Keys are a geographical and metaphysical escape from the hustle and bustle of everyday life. Many stories, songs and films have attempted to capture the essence of the Florida Keys but nothing quite does it justice. You have to experience it for yourself. You have to physically relocate, adjust your mind, and let go in order to truly understand the soul of our Island life. You have to live it. No one understands this more than Captain Scott. Born and raised here in Key West, Scott has spent his entire life perfecting the technique of letting go. Captain Scott has a life long connection to the Islands and understands the subtle currents and rhythms that connect them. He is an expert fly and spin fishing guide, an expert waterman, and an adventurer. Scott has stories that sound like Jimmy Buffet songs, and perhaps are… Scott was in the very first film we ever made. He was in the latest. He's a constant professional with a calm sense that comes with thousands of days on the water. He welcomes laughter and has a devotion to relaxation. He has fished for it all, but seeks out the flats.
"There is nothing like being salty and hunting for fish. There has not been a day when I haven't savored the feel and smell of the ocean. It is knowing the waters, currents, connections and patterns… It is spontaneous as well as calculated… It is always exciting and challenging…it is my hobby, my job and my life."
Capt. Bill Stockton
There are two types of guides; those who do it for a paycheck and those that do it for passion. In the grind that is the season for professional guides, it's sometimes hard to draw a distinction between the two. Long days, wind, weather, fussy fish and relentless 4 a.m. alarm clocks, are the norm. As an angler you hope that when the odds are challenging, the conditions tough or the fish too tricky to fool , you are on the bow of a passionate guide's skiff. The guide who loves his job will see the bright points, have a secret spot up his sleeve, and maintain a contagiousoptimism about the hunt. The passionate guide loves what he does and relates that to his anglers. Capt. Bill Stockton is a passionate guide.
Born and raised in South Florida to a family that knew the importance of spending time on the water, Bill grew up surrounded by a passion for fishing. From Lake Ida fishing for trophy bass to the Inter Coastal Waterway hunting Snook and Tarpon to the flats of Biscayne Bay stalking Bonefish, Bill was exposed to all types of angling addictions and has never shaken the habit. He caught his first bonefish at age 11 and never looked back! His awareness of the purity of the hunt and the philosophy of conservation and sustainability are a constant principal he shares with his clients and friends. "The thrill of being in the element of your quarry & being able to get just a few feet away to make the cast is an amazing experience."
The hallmark of a truly passionate guide is what they choose to do on their day off. If you want to know what kind of guide Bill Stockton is all you have to do is try to find him on a calm summer evening. You won't. That's because he's knee deep on a turtle grass flat, fly rod in hand, pursuing his passion.
Capt. Greg Arnold
Greg Arnold is the proverbial Godfather of the bayou. From his home in uptown New Orleans he presides over hundreds of square miles of marsh from Cocodrie to Venice to St. Bernard. Zipping through metropolitan traffic with his Chittum Skiff in tow, he knows all the best redfish flats, Nawlin's eateries, and shortcuts to get to them. When hewas a kid, Greg began fishing with his great uncle who ran a state-owned lake in Tennessee. He took up fly fishing in college as an elective course that also included bowling. Needless to say, he was a natural when it came to fish and particularly big fish, and has gone on to distinguish himself in that field of study with many state and IGFA records as guide, including the largest Redfish on fly, a whopping 41 pounder caught by Conway Bowman. Greg also spends several months every year fishing for tarpon in Carrabelle Fl. Occasionally he is known to transport Oysters and crawfish to south florida in exchange for 30 pound permit! If you want a shot at a world record Red, a trophy tarpon, or just a chance to spend the day with one of fly fishing's biggest personalities, WorldANGLING has an audience with the Don himself and would be happy to make the connection. Just be careful or you may sleep with the fishes!
Capt. Bill " Butters" Faulkner
When aboard Captain Bill's meticulously kept technical sports fishing vessel you become aware that you are in " The presence of greatness!" You are aware because he will tell you right away. After more then 15 years of guiding and professional tournament fishing, Capt. Bill Faulkner has become one of the most recognizable personalities in the sportfishing industry. Even if you've never seen his face before you will still recognize it, as you would a holy being or a divine entity perhaps. A graduate of the University of Florida's College of Journalism, Capt. Bill has been an outdoor writer and photographer for nearly 20 years and currently serves as contributing editor for Florida Sportsman Magazine. In 2007, Faulkner was half of the most successful single season team effort in professional redfish tournament history. Capturing both Rookie and Team of the Year honors in the Oh Boy! Oberto Redfish Cup. As a full-time fishing guide in Everglades National Park, Faulkner is one of the most respected and sought after fly fishing guides on Florida's west coast. Capt. Bill is known by his friends, clients and colleagues as a dedicated guide, techno aficionado, and possibly the most OCD person ever! If you've ever seen an episode of South Park you'll know why all those that truly love him call him "Butters."