All coming together- BT Elite 2014
It's a never ending quest to design the perfect flats fishing skiff.  There are compromises.   As much as I don't want to admit that, given the technology today, and the set of parameters that define the requirements of a flats fishing boat, it is simply the case that sacrifices must be made.  It may not be forever, but until we are ready to spend a million bucks and design retracting hydrofoils for a carbon fibre canoe, there isn't much we can do.  Or is there?
I despise accepting the status quo!  I can't stand it when people tell me that's the only way to do something because it's always been done that way.  Bullshit!  You have to be willing to fail, you have to be a bit foolish and you have realize that the only thing keeping you from doing extraordinary things is a belief that you can't. So, when we set out to design a new skiff we began by looking at what other skiffs did well and where they compromised.  We knew that in the end there would undoubtedly be compromises but, we thought we could reduce them slightly in every aspect of the skiff and achieve the next generation design that would meet the ever-increasing challenges we face on the flats.  Let's face it, the sport of fly fishing isn't getting any easier.  There are more anglers out there, more technologies that reduce the learning curve and provide advantages, and more sensitive fish that have likely seen a fly before.  The advantage these days goes to the guides and anglers willing to take a risk, be creative and detail oriented.   The same is true for skiff builders.  In oder to advance the design of flats skiffs, we could not rest on our laurels.  We needed to seek creative solutions to old problems and embrace a detail oriented approach. WorldANGLING Crew members and Beavertail Skiffs joined forces a year and a half ago with a mission to design the most versatile, best running, driest riding, all around skiff on the market.  The new 17'8″ Elite is the result of these efforts.  This is my take on the critical elements involved in the design, the real world characterization of the performance of the elite and some thoughts about what the next generation of flats skiffs need to be designed to do.  WB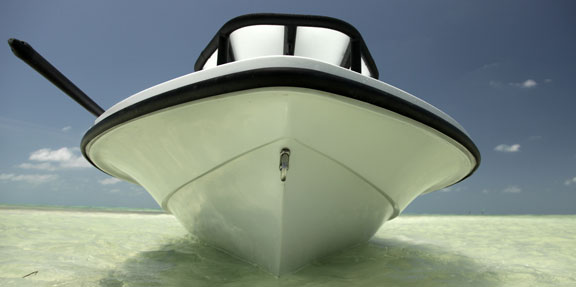 What I've always wanted as a guide is a skiff that can pole really, really well, run comfortably and dry through a chop and fish in shallow enough water to chase everything from Permit in Key West to Redfish in Flamingo.  Now that is inherently difficult to create.  In order for it to pole well it needs to sit level and be hydrodynamicly efficient.  It needs to be quiet.  It needs to have a sharp entry and shallow deadrise.  It needs to be able to be powered with a 90hp engine.  And it needs to be comfortable and ergonomically efficient to promote ease of fishing.  The result of these parameters were a narrow flat bottom boat, with no sponsons, 17'8″ overall length, a draft of 7″ and a sharp nose section with small spray rails.  I wanted a console that would be comfortable when driving standing up, could accommodate a flush mounted Garmin 740 GPS, and which incorporated a cooler and seat that was very comfortable.  I wanted the poling platform to be big, the front casting deck to be big, the scuppers to be big and tons of dry storage.  I also wanted to make the front hatch large enough so we could install an aluminum gas tank that would carry sufficient gas for a day of guiding (20 gallons) after the deck was attached to the hull.  The truth is, no matter what you do, gas tank welds fail.  I never wanted to have a problem with the gas tank that required fiberglass work to fix.  I also wanted to design a new rod racking system that would alleviate the age-old problem of reels being stacked on top of one another.  I wanted easy access to all rigging and electrical connections, clean through-bolted casting platform, and an ample oval livewell that would satisfy the demands of tournaments and be a great release well.  I wanted access to the rear compartment to never again involve moving a cushion or sitting to one side in order to access.  I wanted it to be built with indestructible materials to handle rough water crossings when conditions deteriorate.  And finally, when you do have to cross open water or it's windy I didn't want to take a saltwater shower getting to where I was going.  I wanted the driest riding skiff ever, because spray pisses me off!
I have been fortunate to find an extraordinary partner in this quest with Will and Liz Leslie at Beavertail Skiffs.  They shared the vision to advance the design of the next generation of flats skiff and were crazy enough to listen to every detail I had in mind. The result of the last year of our woking together is the new BT Elite. To say that I am proud of this skiff is an understatement.  She is exquisite.  A joy.  And puts a smile on my face everyday on the water because she is such a remarkable tool for my job.  But, before I continue extolling the elegant simplicity of the Elite I think it's only fair to address the critics who are asking "where is the compromise?"
OK, we began with an acknowledgment that skiff design is inherently a compromise and naturally that is between the desire to run fast and smooth and float shallow.  So let me articulate a bit about what I think the current fishing demands are, how we satisfied a balance and what we left on the table.  First, the most important aspect to hunting trophy fish in shallow water is the ability to pole really well.  There is a trend to use trolling motors these days, which I won't comment on here, but I will say that a good guide who is skilled at poling a boat is much more precise and stealthy angling for the shot than any other form of propulsion.  So, we set out to design a really good poling skiff that would maximize efficiency of motion, tracking, spinning and overall stealth.   A common characteristic in poling skiffs is that they tend to spin, point into the wind and do things other then what you are pushing it to do. The shape of the Elite being long and narrow and the placement of poling strakes makes it track straight.  One way of determining the hydrodynamic tendency of a skiff is to pay attention to how it idles.  If a skiff tends to idle back and forth (right to left) with the engine center it will have a tendency to not track well.   When you shut off the engine and trim it up you will notice these skiffs spin 180 degrees, or likely into the wind.  When poling, especially on the flats where there is wind, this is not desired.  A skiff should remain as long as possible at the angle you position it until you push it sideways.  In order for a skiff to spin correctly the pivot point should be in the center of the skiff.  One design advance that we incorporated into the Elite is the curved transom and additional 5 degrees of angle in the transom.  This helps with floatation, proper relief of suction forces and increased ability to spin.  Not to mention it is a lot quieter when staked out from the rear.  The compromise in the Elite is that in heavy wind 15mph or more she will not hold the water as effectively as she otherwise would had we created a larger deadrise hull bottom or more V if you will.  But a flat bottom skiff is a shallower drafting skiff and more stable.
For the sake of versatility, we designed the Elite with a flat bottom.   A flat bottom skiff is able to access much more fishing territory because it drafts less.  These days fish are less pressured in shallow water and when conditions are tough and tarpon and permit are not around we often target reds and snook which live in very shallow water.  So as a professional, having the ability to access shallower water spots is very helpful.  The compromise is that it suffers a rougher ride in lager sea conditions. In the past, guides would own 2 skiffs to capitalize on specific conditions and the need to fish shallow.  The design goal for the Elite was to retain a shallow enough draft (7″) and increase the rough water capabilities of the skiff.  The front nose section is sharp and we carried the V further aft to amidships (right around the console.)  We also pinched the rear or the skiff to allow the nose to ride up in a following sea and prevent stuffing waves (something that sponson skiffs have a dangerous tendency to do).  The overall effect was that we created a comfortable ride through bay chop and a very sea worthy skiff in open water.  Is it capable of navigating the open ocean or riding on top of bay chop like a V bottom skiff, no, but it more then satisfies reasonable demands for comfort and seaworthiness and will float shallow enough to fish many of the redfish and snook spots that V bottom skiffs can't.
An additional trade off to a flat bottom skiff is speed.  A flat bottom skiff will not have the same capability to air-out as a V bottom skiff will.  There is a hull speed to every flat bottom skiff.  The ability to power the Elite with a 90hp will help with realizing the true hull speed but, there is a limit.  Right now, with some tweaking of the props, we have been able to get the skiff to hit a top speed of 43mph on a slight turn.  Hitting the top speed on slight turn is common for flat bottom skiffs that always require some tab to maintain top speed while going straight forward.  Our top speed with a little tab is 41.5 mph.  So the best overall performance including hole shot performance is to prop the skiff at 40mph.  Considering the real world needs and best efficiency of the engine at midrange rpm, we consider the Elite to be a 40mph skiff with a 90Etec and a 15 pitch 4 blade prop.  For me and most fishermen out there that is plenty of speed.  Our comfortable cruising speed is 32mph.
One of the most important factors to overall success is the ergonomics and lay out of the skiff.  Proper deck size, compartment size, accessibility to dry storage, functional rod racks, and large poling casting and poling platforms mean you spend less time battling the design of the skiff and more time concentrating on the fish.  Even the aesthetics of the lines on the skiff should be pleasing to the eye.  A truly well designed skiff is simple, elegant, functional and inspiring.  It's important to have your head right if you want to be successful catching the hardest gamefish in the world and things like the shape, color and proportions have a real effect on your psyche.  The Elite invokes a sense of performance from bow to stern and doesn't distract you with odd angles, bad layout and unthoughtful design.  Every inch of this skiff was designed for a purpose.  To be the best tool for the job.
We will be hosting a demo day in Islamorada on June 14th.  Check out Beavertail's website for more information.  I look forward to introducing the skiff and hearing the feedback.  We welcome criticism and want to hear your ideas on what you would like to see in the next generation of skiffs.  Without letting the cat out of the bag, this isn't the last joint effort between WorldANGLING and beavertail it's only the beginning!